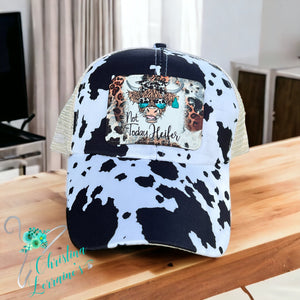 Not Today Heifer/Cow Print/Hat/Cap
PLEASE REMEMBER If this is a personalized item, we need your personalization. Pleae leave it in the "NOTES TO SELLER" box at checkout.
*MONOGRAMS: the correct order for monograms is FIRST,LAST,MIDDLE initials!!! EX: Mary Sue Jones= MJS
*NAMES: please leave just the name you would like on the item, nothing more. please double check your spelling before you submit your order, WE WILL NOT be responsible for incorrect spelling on your behalf.
Meet your New Favorite: Not Today Heifer Cow Print Cap
If you're into something unique and funky, check this out! Our Not Today Heifer cow print cap is all about fun and style! This is not just your ordinary cap, it's designed with a cool cow print pattern paired with our iconic 'Not Today Heifer' slogan. It's like saying, 'Back-off, it's my day!' in a fun, stylish way. With its comical but sassy vibe, it's perfect for casual styles, outdoor activities, or simply for those no-nonsense days.
Thank you so very much for browsing our item. All of our items are either handmade and/or personalized with dye sublimation, permanent adhesive and/or heat transfer vinyl(HTV) or they will be embroidered, which ever description fits your(THE) product. each product may have a slight variation or may be different. THIS IS WHY THEY ARE CALLED HANDMADE...no one item will ever be just like another. Please note that due to the handmade nature slight imperfections are a possibility.
****NO REFUNDS ON ANY OF OUR CUSTOM PERSONALIZED ITEMS****
If for some reason you have an issue PLEASE MESSAGE ME! I work to hard on the item for you not to LOVE IT! with this said. PLEASE DO NOT FORGET TO LEAVE US A REVIEW, (*****5stars of course) lol....OUR SHOP LIVES ON REVIEWS..OUR CUATOMERS SUCH AS YOURSELF buy from looking at reviews. We hope you LOVE your completed custom personalized item and come back soon.
---
We Also Recommend